Did you read the word BDSM on somebody's dating platform profile and don't know what it means?
Have you been reading erotic literature and wondered why certain kinky scenarios resonated with you?
Or are you one of the many people out there watching 50 Shades of Grey and now are wondering if this is really how all that works?
This is the ultimate guide to understanding BDSM, what it's all about, what you can do (or maybe better not) and how you can get started if you haven't done so yet.
No matter if you are a novice in the field or an experienced Dom, sub, switcher (we'll get to what those terms mean shortly), I hope you will learn something here.
A few topics I will cover in this BDSM guide:
What is BDSM?
What does the word BDSM stand for?
How can you try out BDSM safely?
What are some red flags in BDSM?
How do I know if BDSM is right for me?
How can I explore BDSM with a partner?
My personal history with BDSM
Disclaimer
This article describes explicit sexual activities and practices. Please only read if you are at least the legal age to engage in sexual activities in your country and are okay with reading about such things.
What is BDSM?
BDSM is an umbrella term for a variety of sexual and erotic practices, as well as emotional and interpersonal relationships involving Bondage & Discipline, Dominance & Submission, and Sadism & Masochism. Based on mutual consent, the persons involved engage in activities such as power exchange dynamics, inflicting and receiving pain, roleplaying, bondage, or fetishes.
BDSM was first used in the early '90s as an abbreviation for Bondage & Discipline, Dominance & Submission, and Sadism & Masochism.
It has become a catch-all phrase for all activities that fall under these categories.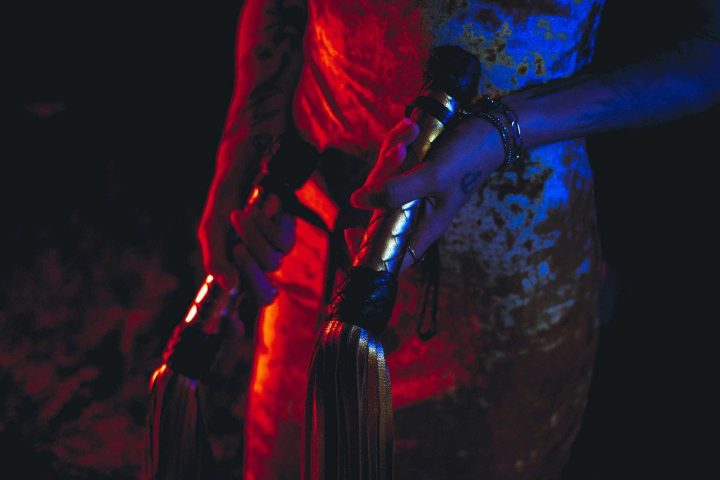 Some common practices that can generally be counted to BDSM include:
Power exchange dynamics between partners where one is the dominant and the other the submissive
Tying up somebody with the goal to make them immovable
Spanking someone with your hand or an object such as a belt, whip, or flogger
Roleplaying scenarios involving a dominant and submissive part
Following rules and protocol in an erotic fashion between partners
Using specialized BDSM tools such as whips, electro shockers, dilatation devices, or collars
Engaging in fetishes
The first thing you'll notice when entering the world of BDSM, however, is that there are no strict rules or regulations when something is actually considered "BDSM".
Therefore, defining specific practices, relationship forms, or dynamics as "this is BDSM" is highly subjective and depends on the context, just as much as on the people involved.
When you tie your partner to the bedpost with a scarf and call it "bondage", that's fine. If you're spanking them with your belt and just want to call it "having a little fun", that's okay, too.
Being naturally more dominant in the bedroom does not automatically make you a Dom in the BDSM sense of the word while enjoying getting a few slaps on your butt during sex doesn't yet make you a submissive (but it could).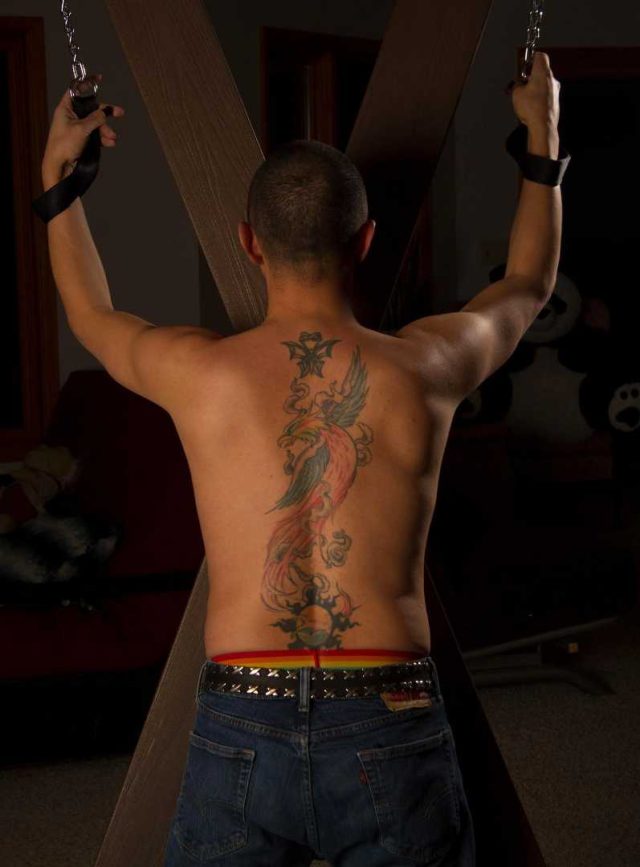 Therefore, in my opinion:
Essentially, whatever you do can become BDSM at some point if you want to be. The keyword here is arguably intention.
Example:
You could pull my partner's hair during sex and slap their butt and not call it anything.
You could also pull their hair, slap their butt, and press their face down into the pillows while telling them what else you're going to do to them soon. We can call that BDSM or rough sex, whatever you prefer.
Finally, you can do the same thing while telling them what a good girls or boy they are and that Sir/Madame is very proud of them. Now we get into the area of intended BDSM, as far as I see it.
In fact, many people start out living out their fantasies and sexual desires without even knowing why they have them or what they truly are.
Later, they discover that we consider them to be BDSM, and only then do they begin to actively practice BDSM.
What can you do in BDSM?
In BDSM you can do whatever your heart desires and live out every and any fantasy or sexual desire you might have, as long as there is consent between everyone involved. You can get inspiration on what to do in BDSM through literature, social media, adult websites, and by talking to other kinky people online or in person.
What I love most about this lifestyle is, there are (almost) no limits as to what you can do in BDSM.
Chances are if you are into something, there are plenty of others who like just the same thing.
This is also true if you have fetishes, although I like to differentiate between BDSM and fetish.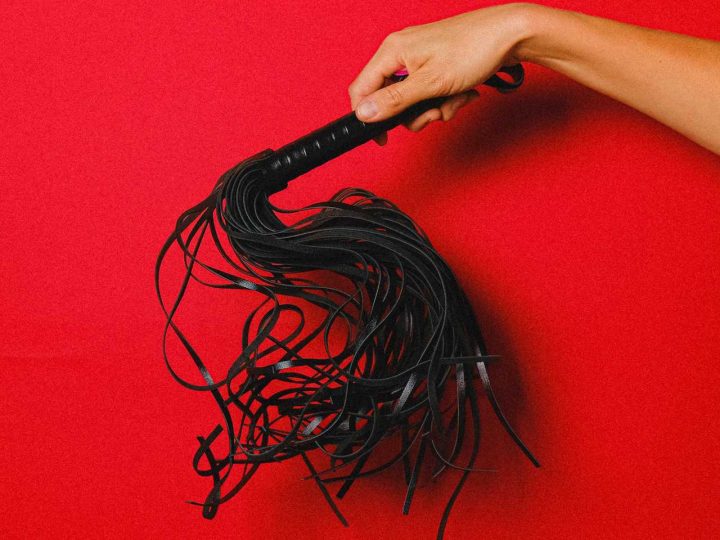 Start out small by trying a few things you have fantasized about for a while and then just do what feels right.
Here are a few ideas what kinds of kinks exist in BDSM:
Rope bondage (light or advanced)
Erotic roleplaying
Using sex toys such as vibrators
Being sadistic or masochistic in the bedroom
Impact play (inflicting pain) with your hand or tools
Sexual and emotional praising
Rules and disciplining your partner when they break them
Giving each other titles or sexual pet names
Degrading
Power exchange between partners
Rape play
Giving the submissive part tasks to complete
Rituals
Using nipple clamps and other pain-inflicting devices
Practicing submissive poses and positions
Orgasm control
And so much more…
As you see, the possibilities are near endless and there are no strict rules as to what classifies as BDSM and what doesn't.
You want to lightly spank your partner while tying them to a chair with your favorite scarf? That's cool!
You want to get beaten with a needle-stacked wooden rod while having a carrot sticking out your butt and singing Yellow submarine by the Beatles through your inflatable mouth gag. Sure, go right ahead! No judgment!
However, please always stick to the basic rules of consensual BDSM, as we'll discuss now.
What are the rules of BDSM?
The only real rules in BDSM are:
Everything must be consensual at all times
Do not engage in illegal activities such as involving children, animals or committing crimes
Do not harm or injure yourself or others permanently
Consent
Consent is the number one rule of BDSM and the one you arguably first learn about when you start digging deeper into the kinky lifestyle.
Consent means all parties consent to what's happening or being done to them in a sexual, emotional, physical, or interpersonal context.
As a matter of fact, consent does not only apply to kinky practices but also any sexual or other activities and encounters you have with other people.
It is important to ask for consent before doing anything with each other.
We all read about stories where drunk women (or others) were abducted and sexually abused by someone because they weren't able to resist them.
This is NOT BDSM!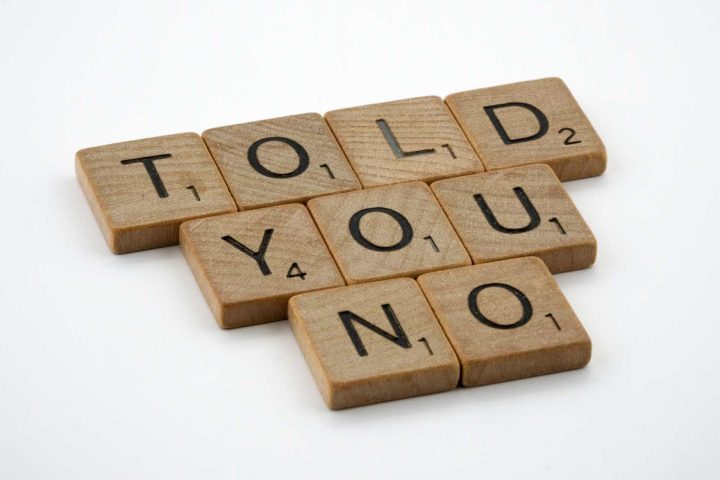 BDSM practices, although they might be rough and at first glance on the edge of abuse, are always based on mutual consent between everyone involved.
You can beat someone with a metal stick until their body is covered in bruises if that person has explicitly given you permission to do so. (I'm exaggerating! But it is still true)
Many women enjoy rape play, however, it should be obvious that none of them want to ever actually get raped.
So whatever you do, make sure both parties WANT it and gave permission.
Yes, this can also be in writing and is a great way to protect yourself and the other partner, especially when you engage with new people.
As a matter of fact, it is customary to set and exchange hard limits before engaging in a BDSM session with anyone.
Don't forget, consent can also be removed or withdrawn at any point in time.
While you can just say "no" and that should mean no, many people in BDSM like to use so-called safewords. These are pre-defined short special phrases or words that tell the other person to instantly stop the scene or whatever they're doing with each other.
No illegal activities
Another basic rule which should not need any further explanation is that you may never engage in illegal activities, especially the ones involving minors, animals, or crimes.
Never. Period.
There are plenty of other legal ways to fulfill certain fetishes, such as pet play, age play, or similar.
No permanent injuries
This last basic rule is somewhat subjective, as "injury" and "harm" are not the same for everyone.
In general, no BDSM-related activity should harm or alter your body or mind permanently in a negative way.
It's okay to spank your partner until they are red and blue, however, don't hit the kidneys or liver as that can lead to serious internal injuries.
Some people like cutting and blood in their BDSM, however, permanent visible scars should be prevented.
The same goes for burn marks or permanent markings, although some couples get tattoos or even brandings to show off their connection.
Again, consent and hopefully common sense are key.
What does Dom, sub, and switcher mean?
The term Dom is given to the dominant person in a BDSM dynamic who holds the power over and controls a scene, while the sub or submissive is the one who gives up power to the Dom. In most cases, these roles are fulfilled always by the same persons, however, switchers are people who enjoy acting in both dominant and submissive roles.
Doms hold the power in any power exchange dynamics and are the ones controlling what happens. In the case of non-committed partners or pure SM scenes, they are often referred to as Tops.
They are also often called by honorary titles such as "Sir", "Sire", "Master", "Lord" etc.
Subs are the submissive part of such a power exchange who give up their power to the dominant part. They are also called the Bottom in a scene or session.
Some differentiate between subs, submissives who are dominated but can also be active, and slaves, who want to be controlled entirely and act as the receiving part only.
Doms / Dommes
Many people reserve the term or title Dom (or Domme for females) only for those who have a play or actual relationship with the submissive part.
I therefore strongly believe in the following rule:
You could say that every dominant BDSM person is a Top, but only those who have their submissives' trust and regularly engage with them are a Dom.
For example, I am the Dom of my submissives with whom I have a committed relationship or play relationship and who I see regularly.
On the other hand, if I go to a BDSM party and are invited to play with someone else's submissive, I am the Top during the scene.
The term Master is often given to the dominant part in a Master/slave relationship.
A Dominatrix, on the other hand, is a woman engaging in paid BDSM sessions with her clients. Domme and Dominatrix are not the same, as one is based on sexual desire and the other on a paid service.
Subs
Subs enjoy giving up power to others and having someone else in control of them.
Some limit this to sexual activities while others want their relationship partners to be in the same position.
It's important to remember:
Similar to how a dominant person can become a Dom for someone, the same is true for a submissive one becoming their sub.
It's a conscious decision and may be removed.
Slaves are essentially subs who want their partner to be in full control and be on the passive or receiving side at all times.
While a sub may have their own will and maybe even refuse something from their Dom, a slave is expected to receive any (consensual) tasks or command without complaint.
Switchers
Switchers enjoy both being dominant and submissive at different times or in different sessions.
This may switch every time they engage with someone in BDSM or last for months or years before switching back the other way.
This behavior is often the case in masochistic people who like to be dominant or submissive ones who enjoy inflicting pain.
Do you play BDSM?
For some people, BDSM is a sort-of sexy game they play with each other. Here, they might temporarily assume a dominant or submissive role to act out a so-called "scene". Others see BDSM as part of their identity and therefore prefer ongoing BDSM relationships and dynamics with pre-defined roles.
Sigh…the ever-ongoing debate whether you play, do or live BDSM.
First off, I don't think it matters much what you call it, as long as you have fun and everyone is on the same page.
That being said, I personally don't like the terms "play", "scene" or "assuming a role".
To me, BDSM is a lifestyle, mindset, and part of my identity which I can never switch on or off. It's just there.
As such, BDSM is just an outlet for my dominant personality in which I can -based on mutual consent- live out my desires with submissive partners and I never assume a role just temporarily.
BDSM as a Lifestyle and Mindset
BDSM is much more than just (sexual) practices. Many people see it as a lifestyle and mindset which influences their partner selection and the forms of relationships they engage in. They interact with other kinky people online or in person, go to play parties, and actively look for ways to live out their fantasies with others. As such, power exchange between partners is often the foundation of their relationships.
In the eyes of the general public, BDSM is often just seen as a sexual practice rather than a mindset and lifestyle.
Of course, most BDSM people love the sexual and erotic fulfillment these practices bring to them, however, it is not their only intention.
There are many ways that people live out BDSM as a lifestyle. A few of them include:
Engaging in BDSM or kink-related online platforms
Visiting BDSM parties in person
Including power exchange dynamics in their relationships
Wearing typical BDSM-associated items such as collars, latex, or insignia
Joining BDSM-related social circles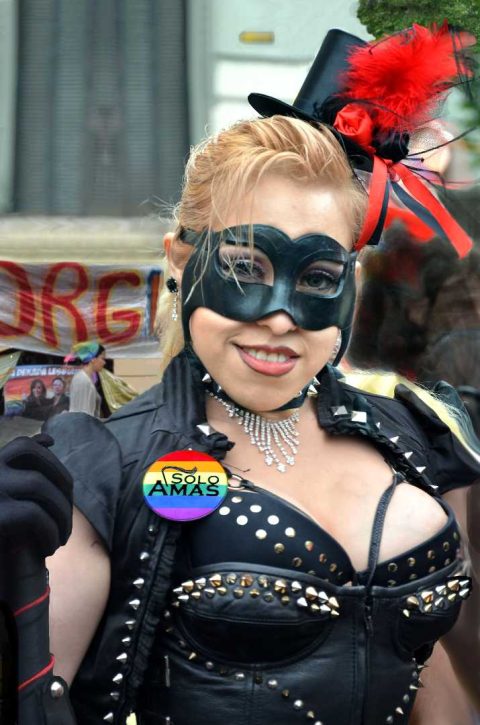 In my case, for example, I see BDSM as sexual desire, lifestyle, and a mindset at once.
First and foremost, I enjoy living out my fantasies and erotic desires with like-minded people.
This includes all aspects of BDSM from impact play (inflicting pain on somebody), being dominant towards my partners, rope bondage, and even some fetishes.
If I don't do that, I inevitably get sexually frustrated very quickly.
As such, when selecting my partners, I am naturally drawn to people who want to engage in these activities with me regularly.
While I have been in "normal" or "vanilla" relationships (a term given by the BDSM community to non-kinky people), they did not last long, and eventually, I had to admit that "my" BDSM does not stop at the bedroom door.
Therefore, I only look for partners who want to be in certain types of relationships in which BDSM plays an important role, namely 24/7 DS relationships. We'll get to what that means later.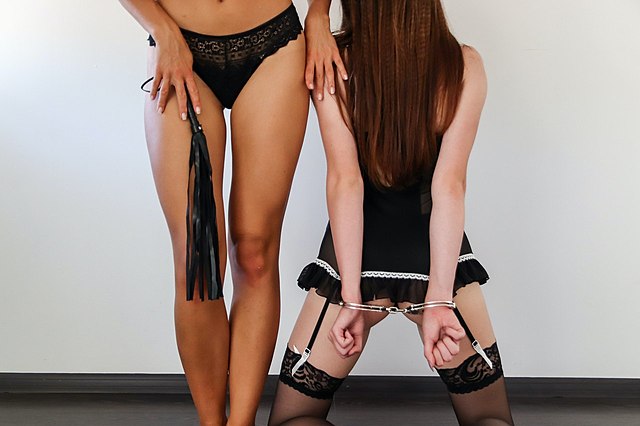 Last but not least, my social circle largely consists of BDSM or kinky people that I have met over the years.
We can live out our lifestyle with each other and can talk about it openly.
Even my friends and family know about me being in BDSM and the people I am with.
How do I know if BDSM is right for me?
If you fantasize about certain sexual practices, enjoy sadistic or masochistic activities, or wish to have power over or give it up to your partner these are good signs that BDSM might be right for you. The best way to find out if BDSM is right for you is to try it out on your own or with another person!
The best way to find out if BDSM is right for you is to just go and try it out!
The more you do it, the better and more natural it will feel.
Check out my BDSM beginners guide to see how you can get started with exploring your kinky dreams.
It is important to get an understanding of what you want to experience and the sexual desires you have, without fealing guilt or shame.
Whenever I talk or engage with BDSM beginners I notice that many are outright ashamed of the thoughts, fantasies, and desires they have.
The fact that they want to be spanked, choked, tied up, or even playfully degraded makes them feel like something is wrong with them.
On the other hand, many sadistic or dominant people fear rejection, stigma, and being a bad person for their fantasies.
What is the difference between BDSM and Fetish?
BDSM refers to a number of intentional sexual, emotional, and interpersonal practices while a fetish is uncontrollable sexual arousal in response to an object or body part that's not inherently sexual. The two can often go together, for example, playing out a BDSM scene involving feet which also fulfills a foot fetish. While BDSM affinity is equal among men and women, fetishes are more common in men.
Many people confuse BDSM and fetish as they often go hand in hand.
BDSM involves practices and relationships which are intentional, controllable, and made by choice.
Fetishes, on the other hand, cannot be controlled or chosen, they are inherent to a person. They also involve things or body parts that we generally would not consider sexual such as feet, materials like leather, objects like rubber ducks, or even smells or tastes.
You will find many people who practice both BDSM and fetishes at the same time.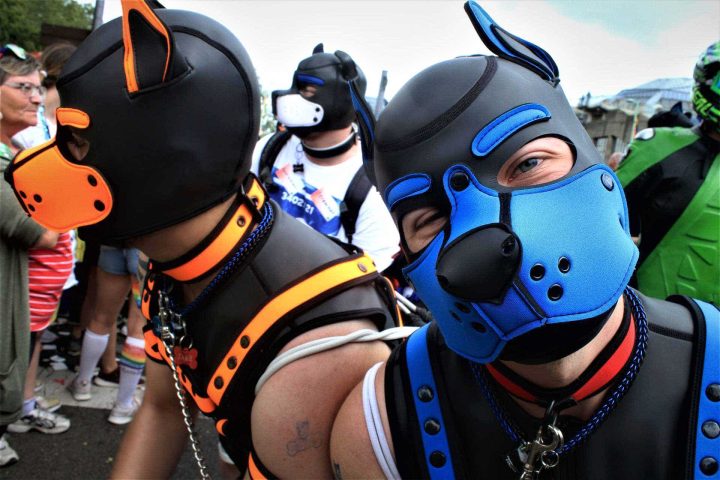 How to get started with BDSM
Getting started with BDSM is super simple and completely free. 🙂
A partner is recommended, but even that is not always necessary.
Here are a few tips to dive right in, or you can check out my BDSM for beginners guide for a more detailed overview.
Take a sexual fantasy you've had for a long time that involves something from bondage, discipline, dominance, submission, sadism, or masochism, and just try it out.
Don't start with the most extreme one, though, and give yourself and those you want to share it with room to develop.
If you fantasize about being spanked, ask your partner/s to do it with their hand before picking more intense tools like floggers, whips, or canes.
You could even try it yourself on your own. A hairbrush is excellent for that.
Just make sure whoever spanks you know the basics of impact play or at least where not to hit.
I suggest starting with the butt, as you cannot do much harm here.
Bondage is a lot of fun together, but you can even try out self-bondage at first if you don't have a partner.
Please have a cutter or pair of scissors at hand, though!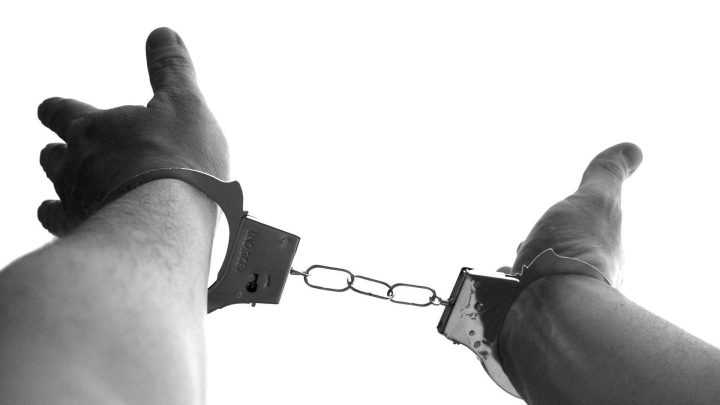 Dominance and submission is the easiest to get started with, in my opinion, as it does not require anything but you and your partner and a little creativity.
Start by having the dominant one control the situation during sex next time and tell the submissive what to do or maybe not to do.
It's okay to be nervous or break out laughing the first few times you try it. That's normal!
Just have fun and do what feels right.
Once you made your first light experiences, it's time to dig deeper.
If you are a sadist or masochist and SM interests you, it's important to learn the basics of impact play.
Advanced bondage often requires careful preparation and good tools, namely ropes and line cutters, and there are plenty of courses and online tutorials you can watch to learn it.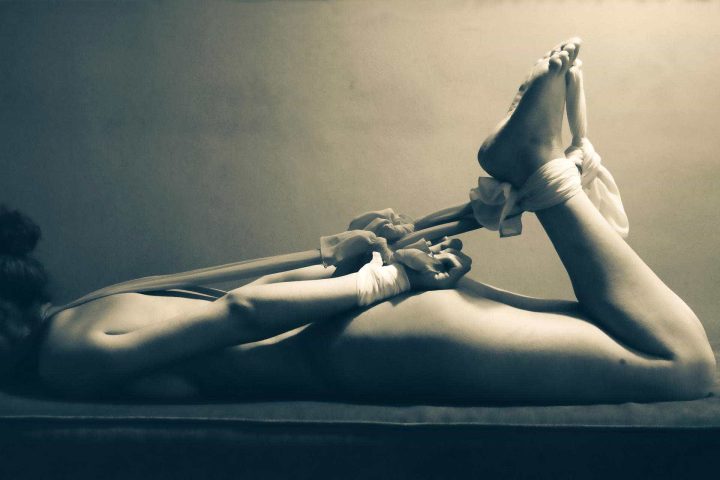 Last but not least, if you want to explore DS in all its facets, make sure to learn about being a good dominant or submissive.
DS relationships
Some people let BDSM play a larger role in their life and also their relationships with their partner/s. We often call them DS relationships, as in most cases there is one dominant and one submissive partner who implement rules, protocols, and other agreements in their day-to-day life. This can involve any aspect from sleeping arrangements, titles, rituals, or decision-making in the relationship.
DS relationships (from Dominance & Submission) are relationships with a dominant and a submissive partner (could be more in either case) in which their power dynamics may also enter their everyday life and aren't restricted to sex.
In some cases, this might include rituals such as what to do before bed or when getting home, or regular tasks for the submissive part by the dominant.
Others also influence life and relationship decisions such as outfits to be worn by the submissive, rules to follow, chores to do, how to address each other with titles and so much more.
Of course, some people consider themselves to be in DS relationship and only refer to the fact that they live out BDSM practices in the bedroom. That's completely okay, too.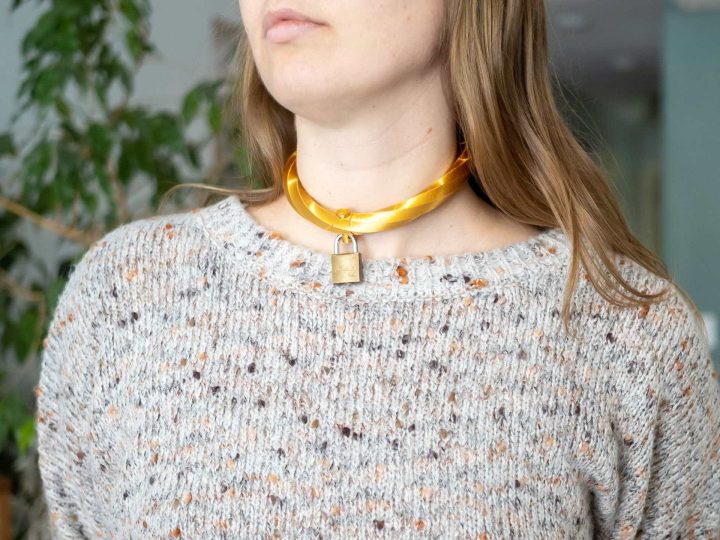 You might also come across the term 24/7 DS relationship.
24/7 means that DS is part of all aspects of their life at all times and their dynamics can be applied to everything from shopping for groceries, sitting in a restaurant and even finances.
While in many DS relationships there might be restrictions to times and places when their power dynamics apply, these are abandoned in 24/7 relationships.
How far this goes and which decisions are part of this is up to the partners' agreement.
Important BDSM terminology
Here are some of the most common terms and abbreviations in BDSM that you might want to know about.
If you want the complete list of BDSM terminology, check out the glossary!
BDSM – Abbreviation bondage & discipline, dominance & submission, and sadism & masochism.
Impact play – Using your hands, toys, or tools to sexually spank your partner
Safeword – Phrase or word to be called by either party to stop a scene or session instantly.
Fetish – Uncontrollable sexual excitement in response to an object or body part that's not inherently sexual such as ears or teddy bears.
Top – Dominant or giving part in a BDSM scene or session.
Bottom – Submissive or receiving part in a BDSM scene or session.
Dom/Domme – Dominant part in a DS relationship, holds the power in power exchange dynamics
Dominatrix – Woman getting paid for playing dominant part in BDSM scene with her client
Sub – Submissive part in a DS relationship, gives up the power in power exchange dynamics
Master – Dominant part in a Master/slave relationship
Slave – Submissive part in a Master/slave relationship, expected to fulfill any and every command by their Master
DS relationship – Relationship in which BDSM practices may be implemented beyond the bedroom
24/7 – DS relationship in which the interpersonal power dynamics are applied to every aspect of life at all times
TPE – Total power exchange: Relationships in which the Dom holds all power in all aspects of life in a DS relationship