Have you been thinking about tying up your partner during sex and doing with them as you like?
Or does the thought of hanging from the ceiling all tied up arouse you?
If so, bondage might just be what you should try out next!
From using a scarf to tie your partner's wrists, to intricate and decorative full-body rope suspensions, there is a whole new world to explore.
This ultimate guide to bondage in 2023 will help you get started in no-time!
What is bondage?
Bondage is the act of consensually tying up or restraining another person for sexual, erotic, spiritual, or aesthetic reasons. It is a common practice in BDSM and can be done with different tools like ropes, cuffs, or tape in a variety of ways.
Bondage is part of the umbrella term BDSM (BD = Bondage) and usually refers to anything that involves tying up.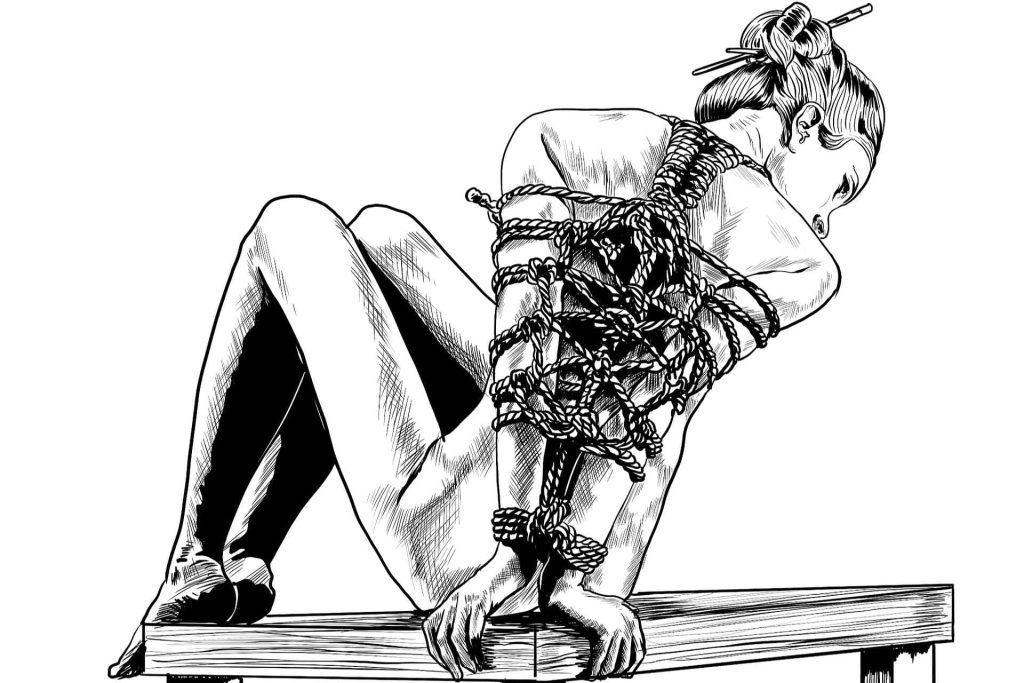 In contrast to other aspects of BDSM, it doesn't necessarily involve or require a degree of sadomasochism, nor dominance and submission on either side of those involved. In fact, it is often a standalone thing that does not always involve sexual interactions.
Bondage Terminology
Here are the most important bondage terminology and words that you'll encounter:
Anchor Point – A stable, immovable point to secure the rope to during a suspension
Rope Top/Rigger – The person tying the other up, without sexual interaction
Rope Bottom/Bunny – The person getting tied up
Rope burns – Temporary markings on the skin where the rope has been applied to
Self-Bondage – The practice of tying up or restraining oneself physically
Shibari – (Japanese: "to tie" or "weaving") Also called "Japanese Bondage", is an artful form of bondage that is especially concerned with decorative ties
Suspension – Using bondage and rope to life someone off the ground
Bondage Materials & Tools
Bondage can be done quick & dirty with whatever you have at home, to intricate ties and decorations using expensive rope or cuffs. Here is what you need to do bondage:
Rope
The most obvious and widely used choice for bondage is rope. Materials for rope can be cotton, fibers, hemp, or jute.
Shibari practitioners will usually only use jute or hemp as they are more flexible and softer on the skin.
Ropes are incredibly versatile and many beginners are surprised as to how strong rope restrictions can be.
You can buy some cheap ones to get started before upgrading!
Fabric
Scarfs, neckties, bandanas, and even sleeves of your shirts can be used for bondage. Fabric is not the most durable of all materials, however, it feels very soft and light on the skin.
It is a great choice for light bondage of the wrists and can be used to cover the eyes and face of the person getting tied up.
Last but not least, it doesn't require any additional purchases and is usually always available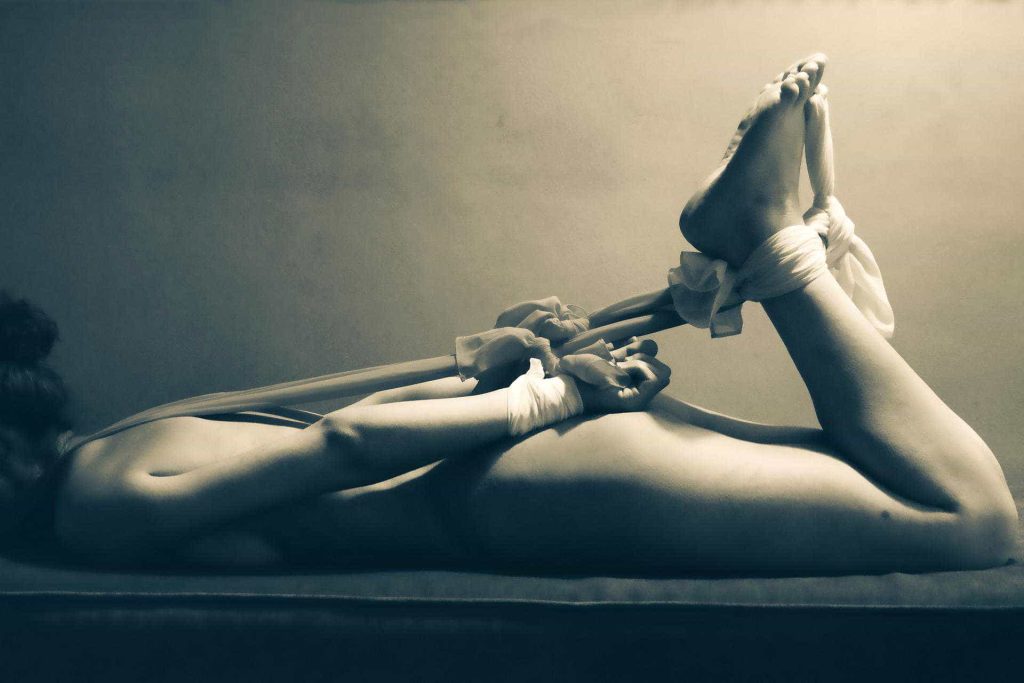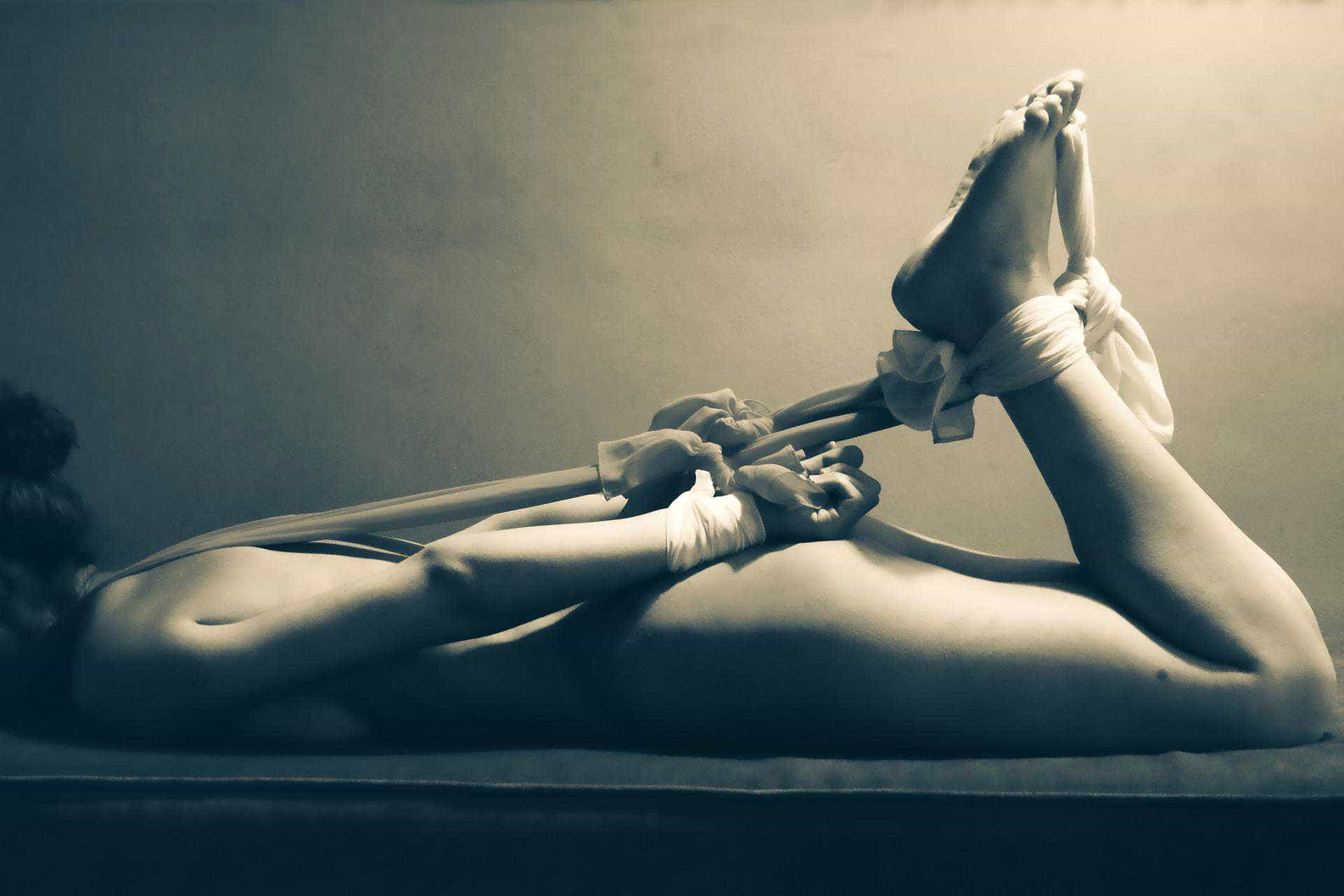 Cuffs
Cuffs can be bought in all sizes, and shapes, and at different price categories.
They are often what beginners start out with as they can be readily bought online and require no rope-tying skills. In addition, they can look very sexy and teasing.
They range from leather to fabric and even metal. Cuffs are not used for suspension bondage or intricate aesthetic ties, however, often find application in sexual scenarios.
The most common cuffs you can find are handcuffs, leg cuffs, and cuff sets for all limbs.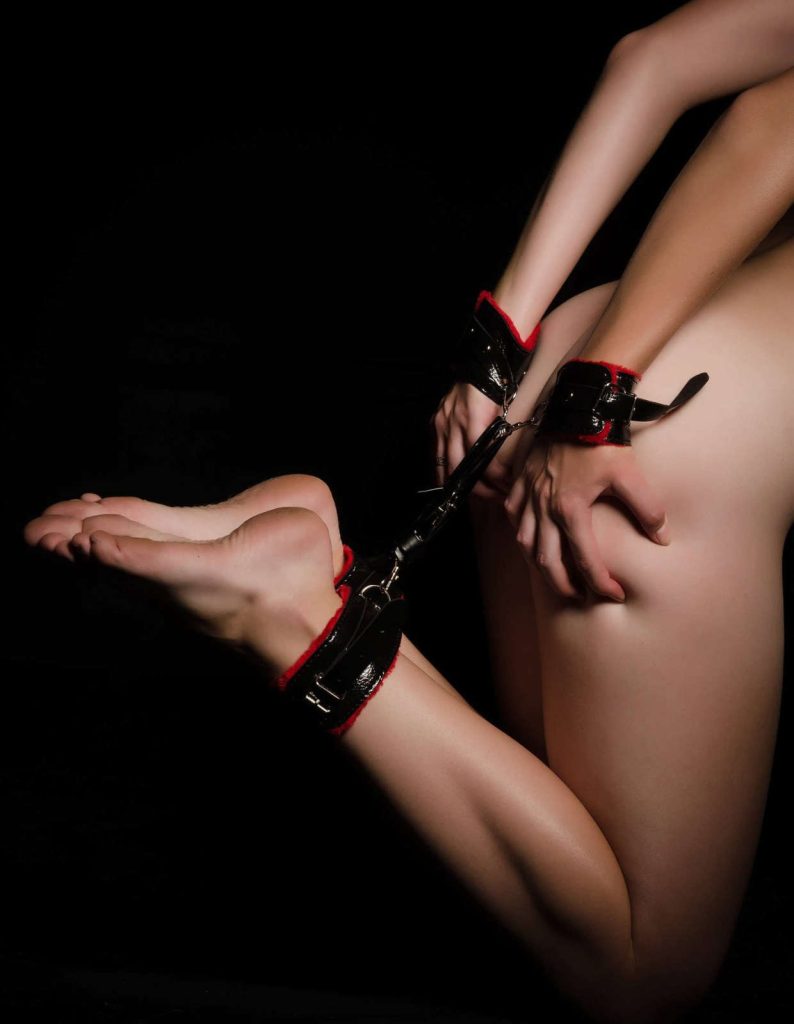 Handcuffs
Handcuffs are a special kind of cuffs for a person's wrists and pretty much synonymous with the police (and uniform kinks…).
They can be bought online and at many stores that sell customs as joke items. They can be found in plastic, or aluminum, however, the real ones are made of steel.
Handcuffs should be used with caution and make for a kinky time in the bedroom…however, they are not optimal for bondage due to a lack of control over their behavior. Pick rope or leather cuffs instead.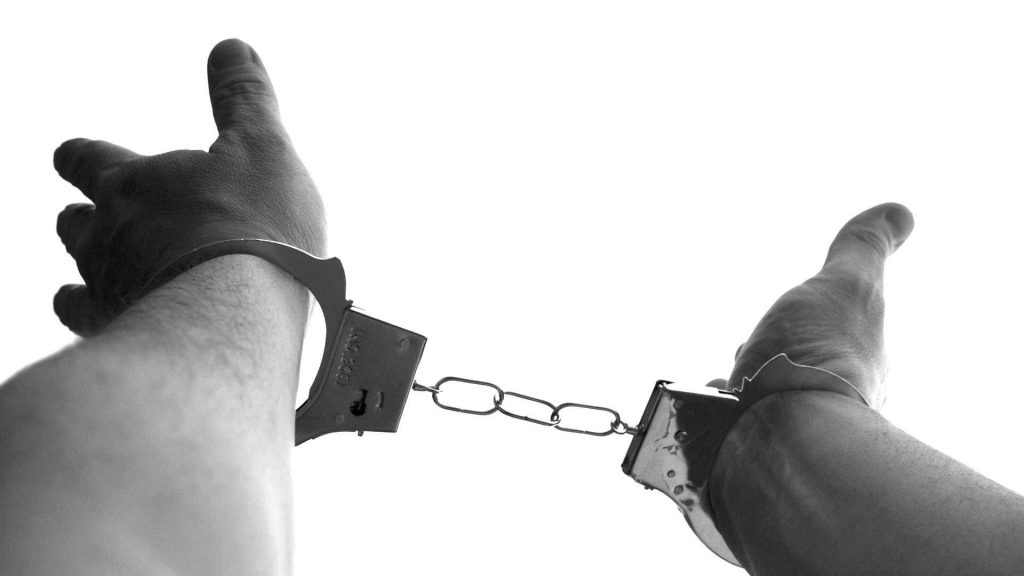 Chains
Found more in play dungeons and in the BDSM scene, metal chains are another commonly used item in bondage.
They usually connect to cuffs to restrain a person, however, they may also used on their own in certain scenarios.
Cable ties/zip ties
Cable ties are often used in DS or SM settings, as well as degradation play when things need to work quickly.
Do NOT use cable ties directly on the skin, if you can avoid it…and only if you absolutely know what you're doing. Unlike ropes or cuffs, zip ties tighten up even more under resistance and can cut into the skin.
The best use for such ties is not on their own but to connect cuffs together.
Latex
Latex often comes to mind when thinking about BDSM, and it finds its use in bondage, as well.
It is more durable and sturdy than leather, making it a suitable material for full-body restrictions. In addition, many people enjoy the feel and sensation they get from the material touching their skin.
Latex is often used in bands, sacks, and even masks.
Knife & Scissors
These final tools are arguably the most important ones in terms of safety.
Whenever you tie up a person or practice bondage with a partner, put a knife or scissors aside in case something goes wrong.
This way you can quickly cut the rope or cuffs in case of numbness.
Why do people like to get tied up?
The reasons why people like to get tied up or restrained can be manifold. Some like the power exchange that comes with being "at the mercy" of their partner, while others enjoy the physical sensation or rope on their skin. Bondage can also be an art form without sexual focus to some.
As with any kink, or desire, people have different reasons for liking something and different ways how they like to enjoy an activity.
In the end, sexual desires are subjective and so is how you experience bondage and why you like it.
The most common reasons people name are:
Loss of power
Feeling of security when tied up completely
Pleasant sensation
Power exchange
Loss of power is different to power exchange in this regard. There are many people who like the feeling of being tied down (especially in suspension bondage) but don't want to feel exposed in front of another person.
Others crave exactly this.
Being completely restrained by a rope is an interesting feeling and many say they feel safe and secure rather than helpless. The sensation of the tight rope on their skin and not moving is sort of a meditation to them.
How to get started with bondage?
Getting started with bondage is easier than it may appear. Let's look at how you can approach your first bondage experience with a partner and have a great time together.
We will also come back to some of these points when talking about bondage safety.
Talk to your partner
Don't overthink
Buy some rope or cuffs
Get some inspiration
Learn the basics
Start out small
Pick a safeword
Start with one body part at a time
1 Talk to your partner
If you have a partner, tell them about your fantasies or desire to try out bondage and tying up. Or don't and surprise them next time!
However, be sure to stay consensual and within each other's boundaries.
If you like it, talk more about what you like to do and how you would like to approach it.
2 Don't overthink
Whenever trying out new kinks in the bedroom, just go for it!
Bondage doesn't have to be hard and elaborate to be fun, and you can experiment as you go.
Don't get discouraged when something doesn't go as planned or because you are not a rope tying master yet. It will come over time.
3 Buy some rope or cuffs
Of course, you need something to tie your partner up or get tied up by them.
You can get a bondage starter set for very cheap or a pack of ropes to get started.
4 Get some inspiration
Getting some inspiration as to what is possible and sexy is always a good idea. Social media, YouTube, online searches, forums, and even porn can be great sources of inspiration.
Furthermore, there are some great movies on BDSM, as well as bondage scenes in popular films that can give you an idea.
5 Learn the basics
Look for tutorials online about knots and ties to learn the basics.
Of course, a basic simple knot will work in most cases, but can be hard to loosen later, and might collapse under resistance.
There are two essential bondage ties, you should look into:
Single column tie (Burlington Bowline or Struggler's Knot)
Handcuff Knot
These ties won't collapse mid-session and are safe for beginners to use right away.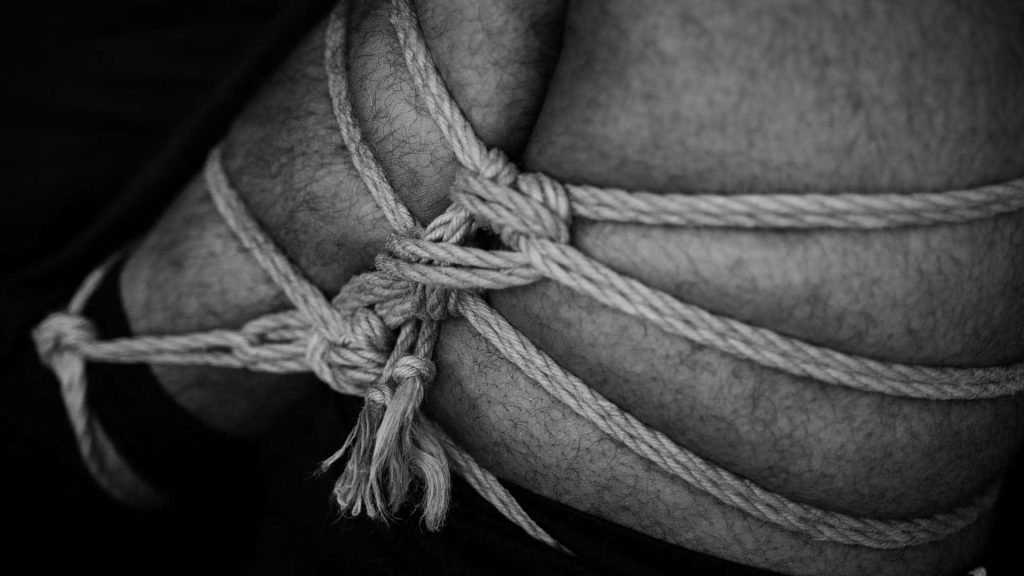 6 Start out small
It's best to try something small and fun for your first experiences, rather than getting tied up (no pun intended) in an elaborate semi-body tie that doesn't work.
The classic first-time experience is one partner tying the other's wrists to each other or to the bedposts. Experiment with this to see if you like it.
If you do, great! If not, how about buying some cuffs and spreading your partner's legs apart in the bedroom next time?
The possibilities are endless!
7 Pick a safeword
A safeword is a word or phrase to be issued by either partner if they want to pause or stop the scene at any point in time.
This could be a color like "red" or "black", a fruit like "banana" or something else you connect with an emergency such as "Mayday".
Even if you just do light bondage, ensure you know the safeword and what to do if it is issued. Neglecting this can not only cause injuries but a loss of trust in each other!
8 Start with one body part at a time
This follows the same fashion as the point above about starting out small.
Tying a person up requires your full attention and only having to worry about one body part at first is recommended.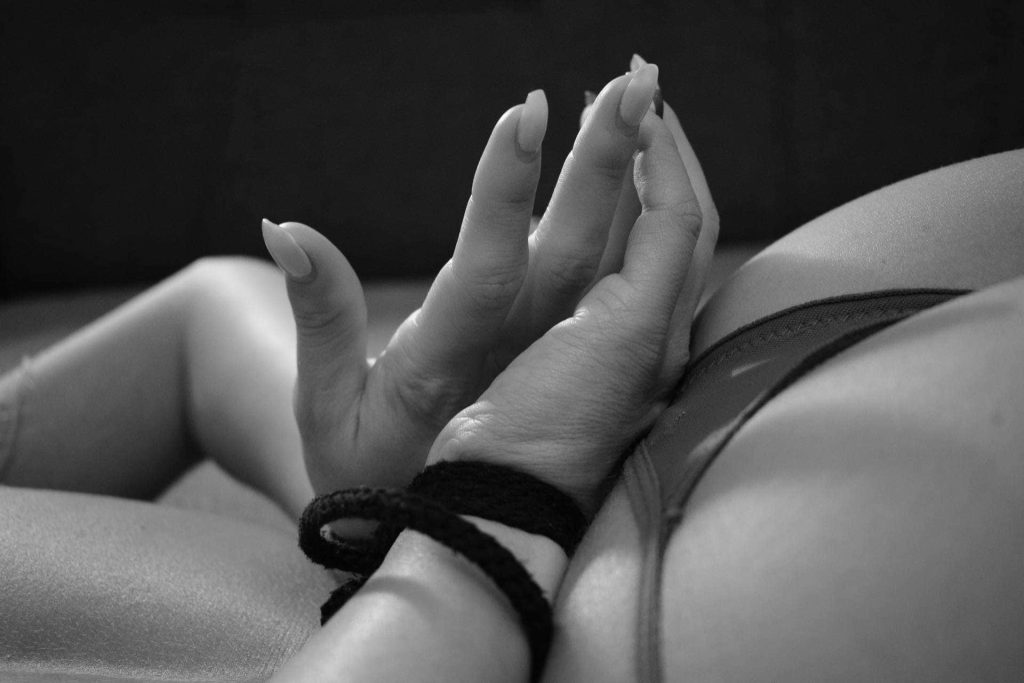 Here are some scenarios to get started with:
Tying your partner's wrists together with cuffs
Tying the wrists to the bedpost
Spreading their legs with a cuff set
Binding their wrists and feet together with cuffs
Applying a handcuff knot on the wrists
Using a single-column tie on a body part of your choice
Trying out a multi-column setup (e.g. hands & torso) for the first time
As you see, there is a clear progression from easy to a little more advanced.
Is there sex in bondage?
Sexual interactions can be part of a bondage session, however, they are not required. Neither are any dominant or submissive tendencies, nor sadomasochistic ones. Many people practice bondage and tying simply for aesthetic or spiritual reasons.
As usual, there are many different ways to live out our kinks and they may or may not involve sex or intercourse.
There is certainly a very erotic aspect to tying up and restraining a person and that's probably why most people begin doing it.
As such, it can be very sexy to restrain your partner with ropes and do with them as you please…or vice versa. 😉
On the other hand, there are plenty of "riggers" (those who tie up), and "rope-bunnies" (those getting tied up) out there who simply do so for the pleasure of using or feeling the ropes.
Bondage safety
Here are some considerations for general bondage safety, especially for beginners:
Consent comes first
Communicate a LOT
Have a safeword
Get the right equipment first
Learn some knots & ties
Start out small
Watch for numbness
Have scissors or a knife ready
Consent comes first
As with any sexual interaction, as well as anywhere in BDSM, consent comes first. Always!
Never tie anyone up or down without their explicit consent first.
Communicate a LOT
No, talking does not ruin the mood. 😉
During a bondage session, or sex involving ties, it's not a bad thing to ask your partner how they are doing, whether they feel safe, and if they enjoy the sensations.
However, communication starts way before! Talk about what you would like to do, how you plan to approach it, and each other's desires.
Communication is key to good relationships, great sex, and a successful bondage session.
Have a Safeword
As explained above, a safeword is a word or phrase to be issued by either partner if they want to pause or stop the scene at any point in time.
Even if you just do light bondage, ensure you know the safeword and what to do if it is issued. Neglecting this can not only cause injuries but a loss of trust in each other!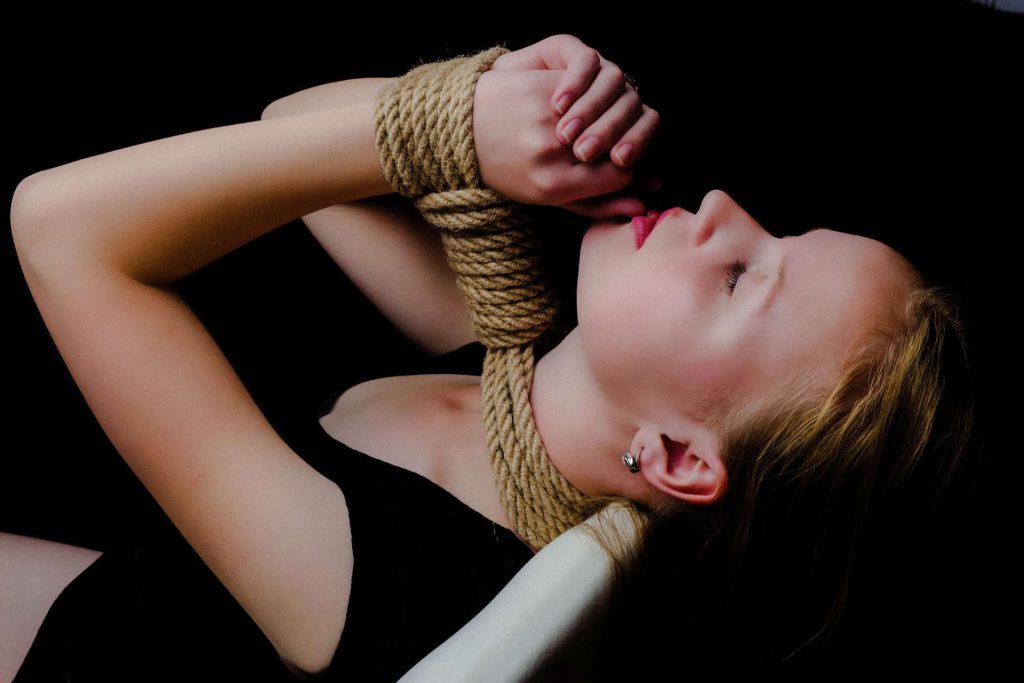 A word to the rope top/rigger: Be sure your rope bottom is in a position and mental state to be able to speak out their safeword if necessary. If this is not the case, you either have to stop the scene or remember to regularly ask for their current state during the bondage.
Get the right equipment first
Cable ties and the likes are NOT a good tool for bondage and can cause serious injuries. If you tie someone up against furniture, be sure it is stable.
You don't need to buy fancy ropes, but getting the right tools is crucial. This could be as simple as using a scarf for the first time, before upgrading to some good bondage ropes.
Start out small
When you get started with bondage, it can be overwhelming and it's easy to feel pressured. You see all those fancy ties online and think this is how it must always be.
Fact: It is not!
The first time you try bondage, you can start out small and just experiment. Some rope tying skills certainly come in handy but a shibari title isn't necessary. Just improvise a little and remember to have fun at all times!
Learn some knots & ties
While experimenting is a great approach, some basic knots are required!
Learn the single-column tie and maybe one or two more to get a better understanding of how rope works.
Watch for numbness
Leave a little bit of breathing room when you tie your knots so your partner doesn't experience numbness in their limbs.
Check back with them every few minutes to see if they are still doing fine. It's also a good idea to touch their hands, feet, and tied up limbs to ensure they aren't getting cold.
Cold limbs indicate a loss or restriction of blood flow.
Have scissors or a knife ready
Good emergency management becomes especially important in bondage.
Set a knife or scissors aside in case you have to cut the rope. Tell your partner about it, too, so both can act in case of need.